RENTAL NOTICE 2023 !!!!!!!
Summer rentals are all booked….there is limited availability beginning in September.
Welcome to the Maidstone Recreation Centre:
The Maidstone Recreation Centre is centrally located to a multitude of areas, city and rural.  Located on approximately 4 acres of property.
The centre gives us the opportunity to provide contemporary and cost effective facilities for a wide range of community and family activities. We do not rent for Jack and Jill's.
The Centre offers flexibility in room sizes and amenities to rent for your special occasion.  Whether it be a small conference meeting room, a banquet facility or an event at our outdoor pavilion.  Our facilities are handicap accessible.
We offer plenty of parking for your guests with assigned handicap parking.
You may contact one of our Rental Co-Ordinators to discuss your options for your special event by phoning: 519-737-7810.   They will return your call ASAP.   You may also email at:  [email protected]  to have inquires answered.
Judy Eyraud—Rentals Co-Ordinator
Jim Croft—Rentals Co-Ordinator
Room Capacities and Amenities:
View our photo gallery here.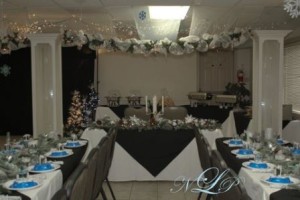 Banquet Hall:  Various seating arrangements.
Seating capacity: 80
Kitchen facilities include: stove, cooler, bar area.
New chairs, folding tables of various sizes available.
Central Air
Meeting Room:
Seating capacity:  20
Pavilion: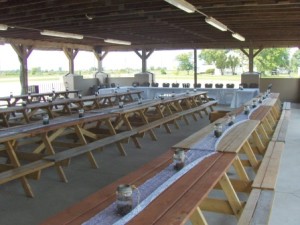 Seating capacity:  170
20 picnic tables – seats 8 people per table.
Serving area with fridge, freezer, stove, and coolers
Booking Costs:
You can view our pricing list here:
Policy Documents:
You can view our policy agreement here: